Request a demo.
An asterisk (*) indicates a required field.
HVAC Software for Scheduling and More
Looking for the ideal HVACR software to help run your HVAC business? Look no further. Smart Service integrates seamlessly with QuickBooks to manage every aspect of your business, from scheduling and invoicing to dispatching and customer management. Bring in your current customer list, bring in your current forms library, then get going! Your company can even go mobile with the Smart Service. This easy-to-use software will make your business run more efficiently than ever before! Request a free demo today.
Industry-Leading HVAC Software with QuickBooks Integration
With Smart Service, double data entry is a thing of the past. Smart Service is a QuickBooks add-on, meaning data entered in Smart Service is immediately duplicated in QuickBooks. Gone are the days of manually typing information into multiple software systems. Complete a job in Smart Service and you'll automatically generate a QuickBooks invoice! Learn more about how Smart Service can improve your HVAC business.
---
HVAC Software That Makes Scheduling Easy
---
As your HVAC business grows, your scheduling needs become more pronounced. QuickBooks is great program for accounting, but it simply cannot handle the scheduling demands of the modern HVAC company—unless you've added Smart Service! Setting a service schedule with this HVAC business software couldn't be any easier. Drag, drop, and you're done! Learn more.
---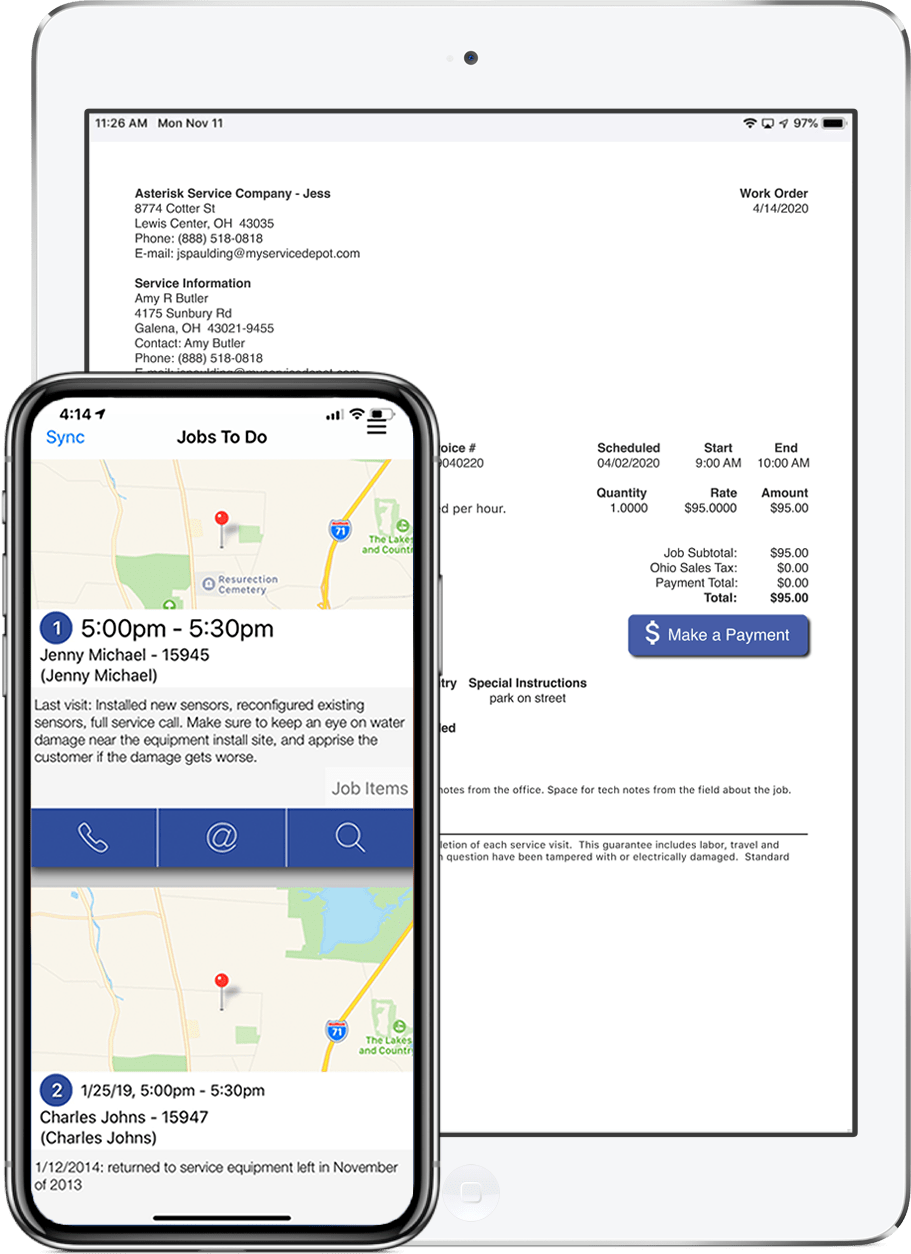 Make Your Business Mobile With HVAC Software

Are you ready to truly kickstart your business? If so, you're ready for iFleet. Our mobile app is the perfect mobile HVAC software. Dispatch work to your technicians' mobile devices and give them the ability to file paperwork from the field. Become the mobile workforce of the future, today! Learn more.
---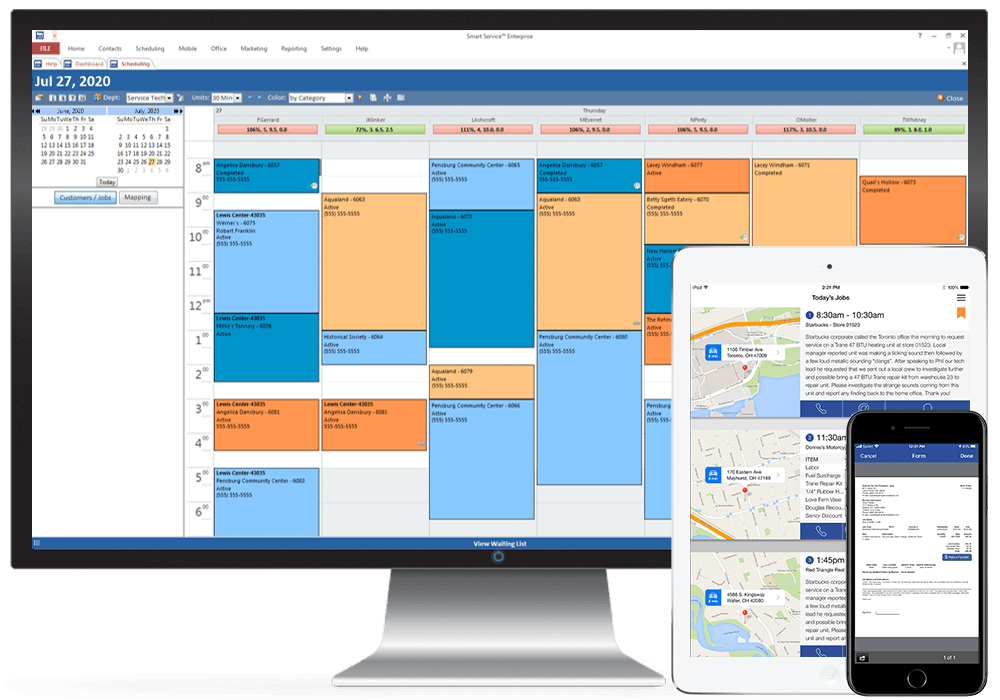 The Best HVAC Software Solution
---
When running a successful HVAC company, the last thing you want is software that makes business more complicated. With Smart Service, you are equipped with HVAC software that integrates with the Quickbooks program you already use. Make scheduling, dispatching, and management less complicated. With Smart Service, you will never have to worry about outgrowing your HVAC software application as your company grows. Unlike other HVAC software solutions that require a monthly subscription fee for every user, Smart Service comes as a one-time purchase that helps you better manage your growing HVAC company. Learn more.
---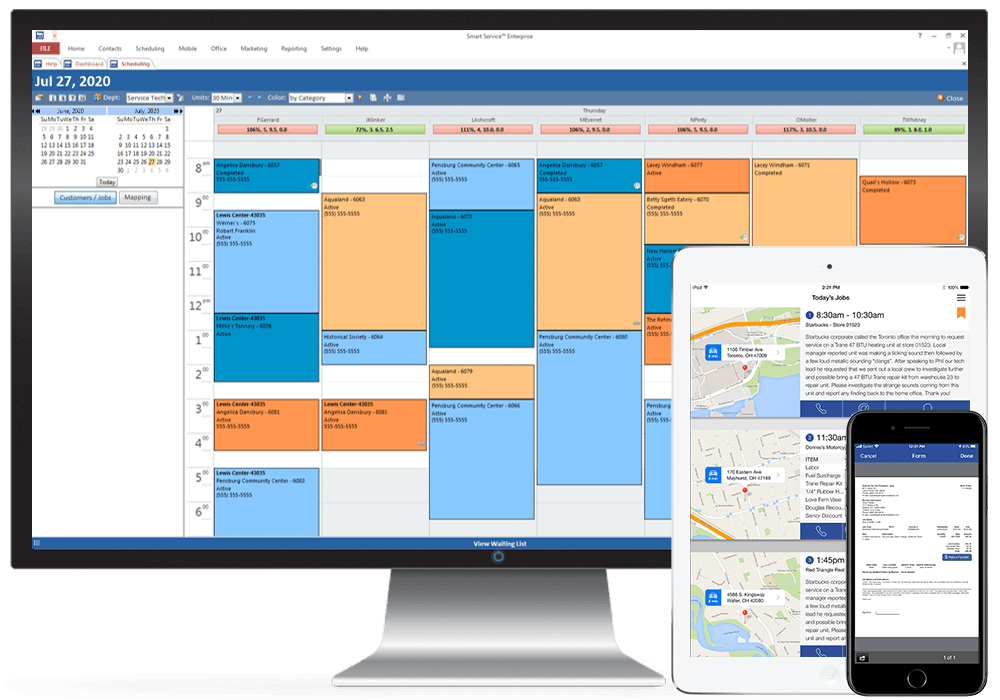 ---
The #1 Field Service Software for QuickBooks
---
Service companies of the world, rejoice! Your days of double data entry are over. Smart Service HVAC software adds scheduling and dispatching to QuickBooks to create a single, seamless software system.
---
Smart Service supports QuickBooks Pro, Premier, Enterprise, and Online, streamlining your job process regardless of which QuickBooks platform you use.
---
Eliminate wasted time and reduce opportunities for miscommunication when you move your work orders and scheduling into the digital realm. Handle new or rescheduled jobs with ease, sending notifications to your entire team instantly. Improve communication and day-to-day operational efficiencies with Smart Service HVAC Software for Quickbooks.
---
Top Features of Smart Service HVAC Software
With Smart Service and iFleet, your team can import, create, and complete work orders while on the job. Take a look at some of the key features of our comprehensive HVAV software program. Make your HVAC business more productive.
---
Eliminate Paper Work Orders
Smart Service and iFleet let your employees manage all invoicing digitally, on site. This saves time and paper, empowering your field technicians to be more productive during their day.
---
---
Quick and Easy Scheduling
Take on more work orders with the easy-to-use Smart Service interface. When a new service request comes in, simply pull up the schedule, find an available time slot, and schedule the job! BAM! Easy.
---
---
Digitize Existing Forms
Smart Service makes it easy to digitize your existing forms to manage and complete them on digital devices. Instantly share completed paperwork with employees in the office or out on the job.
---
---
Integrated Customer Records
Smart Service HVAC Software for QuickBooks imports existing customer records so that you have the most up-to-date customer information available when you begin to schedule and dispatch work.
---
---
GPS Navigation
Smart Service and iFleet allows your HVAC techs to discover new job information immediately. It also provides GPS navigation to the job site. Eliminate the time your crews waste waiting for new work orders!
---
---
Invoice Generation
Smart Service allows you to keep all customer information, work requests, and any other updates in one place, using all of that information to generate a ready-to-bill invoice in QuickBooks. Eliminate costly billing errors and get paid faster!
---
---
HVAC Software That Grows With Your Business
---
Streamlining your business will keep you productive and profitable. With Smart Service and iFleet, easily scale your work order, scheduling, and dispatch operations as your client base grows. Once you purchase Smart Service, you own the HVAC field service software solution forever. Don't worry about ludicrous, ongoing subscription fees.
---
Already own Smart Service? Want to see the powerful features of the iFleet work order app in action? Download a free demo on the Apple App Store or from Google Play.
Supercharge QuickBooks.
---

Say goodbye to double data entry! Smart Service HVAC software and QuickBooks make the perfect team. Smart Service imports your existing customer, employee, product, and service information from QuickBooks, letting you schedule work for your customers in a matter of minutes. Complete, out-of-the-box QuickBooks integration makes Smart Service the best field service scheduling software on the market. Start scheduling work for your QuickBooks customers! Request a demo today.
Fast, easy scheduling.
---

Too often, paper work orders get lost in the field or come back covered in illegible chicken-scratch. Remove the guesswork and dispatch jobs digitally. With Smart Service scheduling, techs always know what to do and when to do it. Work orders move from the office to field (and back again) digitally, removing any margin for error. Smart Service HVAC software for field service will streamline your operations and keep your team on the same page. Request a demo!
Do things your way.
---

Your business already has its own, unique way of doing things. No matter how strange or specialized your needs, Smart Service answers the call. User-defined fields allow you to track any customer information you can think of, while a series of optional modules expand Smart Service for niche industries. Talk to one of our product experts to find out how you can make Smart Service HVAC software work for your business. Simply
request a free demonstration
today!
The Capabilities Are Endless
Smart Service HVAC software has integrations and add-on modules that can supercharge your business and increase sales.
Service Agreements
---
The Service Agreement module tracks every part of your service agreements, including their renewal dates, billing patterns, and any associated equipment information.
Multi-Truck Inventory Management
---
Having trouble managing inventory? Easily log parts as they move from your warehouse to a truck, then remove those items from your inventory when they get assigned to a work order.
Payment Processing
---
Smart Service payment processing allows service businesses to take payments in the office and field while offering unbeatable credit card processing rates.
---
Request a Smart Service demo today!
---
---
---
The Most Important HVAC Service Software Features Include:
---
Built-in communication for field service technicians and dispatch
Service route optimization and directions
Real-time schedule management
Employee time tracking
Billing integration with QuickBooks
Digital invoicing, eliminating paper
Easily manage your customer database
---
Update Your Field Technicians Immediately With HVAC Software
---
Double booking your employees in the field constitutes a real problem for small businesses, forcing them to manually handle a large number of jobs and keep up on last minute rescheduling. This time sink can have a huge impact on your day to day efficiency and will likely lose you clients if issues arise too often. With HVAC service scheduling software, scheduling becomes a breeze and requires just a fraction of the time needed to manually do the work. Eliminate double booking by easily viewing every field technician's schedule and update your entire team immediately via their mobile devices when changes occur.
---
Optimize HVAC Service Routes With Ease
---
Use HVAC software to cut down on time wasted on the road. Working out the most logical route for every employee in the field, especially when you take into account rescheduling and cancellations, can make for a near impossible task when managed by hand. With HVAC dispatch software, you can easily dispatch your workers without rifling through filing cabinets and making a multitude of phone calls. If a job gets canceled you can reroute your employees and notify them of the new changes with incredible ease. Easily set up recurring appointments and update work order information to remember effective routes. Don't start from scratch each time!
---
HVAC Software Helps With Time Tracking for Billing Purposes and More
---
One of the most valuable benefits HVAC software provides? The ability to track work orders and monitor the time employees spend on jobs. HVAC software frees you from much of the hassle of keeping tabs on your workers in the field. Instead, you can spend your time making the critical high-level decisions that will put you ahead of your competition. Equipment tracking lets you coordinate and monitor your valuable assets, so you can rest easy knowing your tools are safe and in the right hands at the right time.
---
Manage Your Customer Database and Scale Up As You Grow
---
Consider Smart Service as your HVAC business management software as it lets you keep up-to-the-minute tabs on job notes so that your employees remain fully informed. Field technicians become empowered to make decisions when they know they have the most complete and up to date information at all times. Forget about the need to rely on antiquated software, or worse, to keep track of filing cabinets containing dozens and dozens of folders containing customer records. Smart Service HVAC software integrates seamlessly with Quickbooks so that you can transfer your customer data and scale up your business operations as you grow.
---
Handle Invoices and Billing Without the Need for Written Work Orders
---
Instead of turning in a stack of crumpled invoices at the end of the day, your field techs can handle invoicing digitally while on the job. This saves your workers significant time and can even free them up to complete additional jobs. You can even manage your payroll with Smart Service HVAC software.
---
Smart Service HVAC Field Service Software With the iFleet Mobile App
---
With the
iFleet mobile app
, communicating with your team becomes easy. iFleet, which works hand-in-hand with Smart Service HVAC software, represents the finest field service app on the market. Your techs will enjoy instant access to client information, service histories, company forms, and more with their mobile devices.
Request a demo
today to see if Smart Service HVAC software is right for your business.
---
Let's grow your business together.
Check out these free business and technology tips from the Smart Service team.